All your Webex Meetings from your WordPress
Schedule your Webex meetings directly from your WordPress dashboard without any hassle or back and forth.
Integrating Webex to WordPress
WordPress integration for Webex allows you to visually collaborate, create, edit, delete and align your Webex meeting schedules directly from your WordPress dashboard. With this integration you can directly schedule your meeting and show them up on your frontend so, that your users can interact and join your Webex meetings easily with just one click of a button.
Integration for WordPress solution can be helpful for educational institutions, consulting firms, and remote businesses, yoga instructors and so on. It will mostly be effective for businesses who adapt to distance workflow as well as online learning.
See below for next steps.
This section shows you how your Webex integration with WordPress works.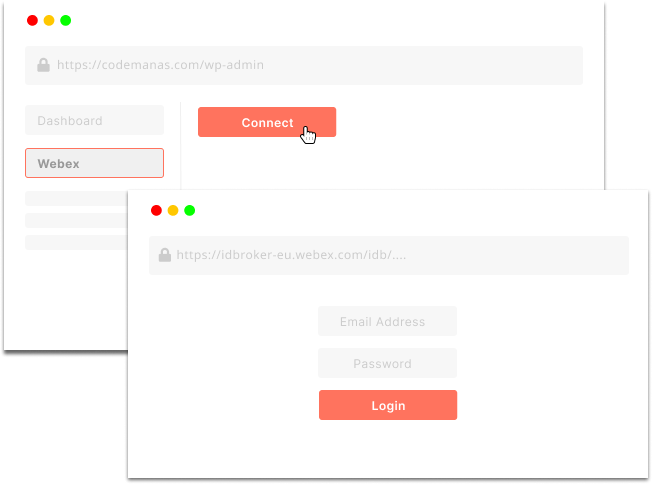 Connect your Webex Account
As with all integrations – this also comes with connecting your Webex account first. *This may require you a paid webex plan.
Connecting your Webex accounts means you are giving access to certain permissions to your WordPress site. Meaning that, you would be able to schedule, delete and edit your Webex meetings directly on the fly without going to Webex portal or app.
Schedule your Webex Meetings
After you connect your Webex account, users can create schedule Webex meetings. Creating meeting is simple – you create meeting as to how you create a post in WordPress.
Users would be able to create their meetings from "Events" section in the backend. Where you would find most of the settings that you would find when scheduling a meeting from Webex portal.
Users can directly join Webex meetings from your website. You can choose to show your meeting in any of the pages using shortcodes that are available with the integration for WordPress plugin.
Alternatively, users can find all the available Webex meetings on a certain page where they can join any meetings with just a click of a button.
Install Webex for WordPress